Zoom

Zoom Q8 Handy Video Recorder
Available for In-Store Pickup Only.

Overview
The Q8 marries high-definition video with high-resolution audio, making it the perfect camera for music and video creators everywhere. Its 160 degree wide-angle lens and digital zoom ensure that youll always capture the complete picture. Combine that with ZOOMs groundbreaking interchangeable mic capsule system and two XLR/TRS combo inputs for a world of options.
The Perfect Camera For Music And Video Creators Everywhere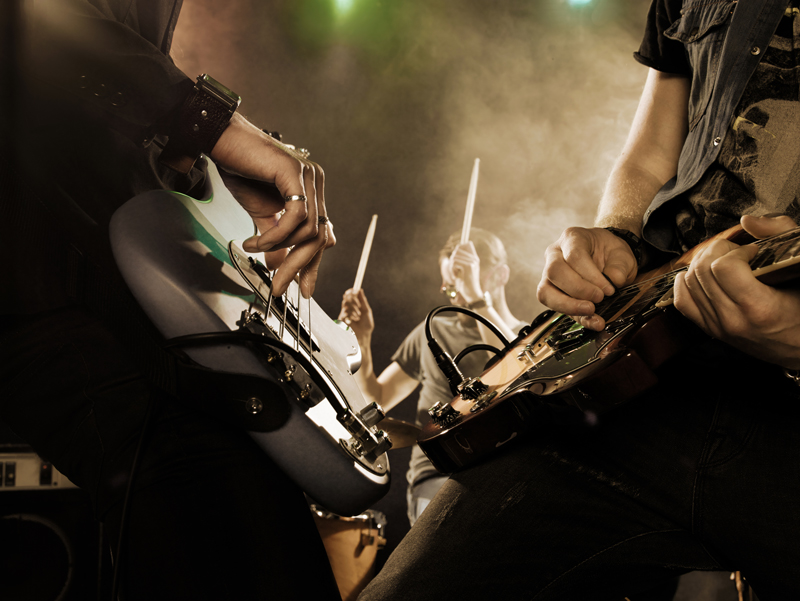 The Q8 video and audio recorder are designed to make sure your creative endeavors really shine. You'll diseover a world of options for capturing every detail of the important events in your life and impromptu moments to share with family and friends.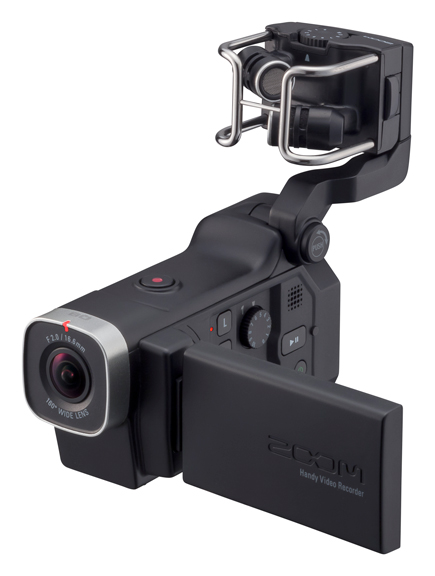 Think of the Possibilities
You've never seen—or heard—anything like it. The Q8 marries high-definition video with high-resolution audio, making it the perfect camera for music and video creators everywhere. Its 160 degree wide angle lens and digital zoom ensure that you'll always capture the complete picture.
The Total Package
The Q8 offers a large full-color LCD touchscreen for ease of use, along with a wealth of advanced features. Dual combo XLR/TRS inputs allow the connection of external microphones and line-level sources, and a built-in speaker and stereo Headphone/Line Out jack provide audio monitoring; there's even an HDMI output for video monitoring.
Its high-quality 160 degree wide-angle lens and flexible mounting options means that you can shoot high-def video anywhere you go. Plus, there's a USB output that allows the Q8 to be interconnected with your computer so you can use it with your favorite streaming or editing software.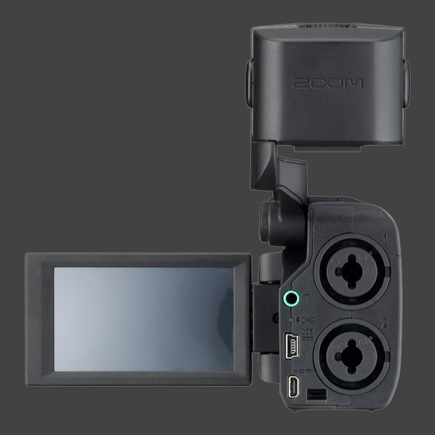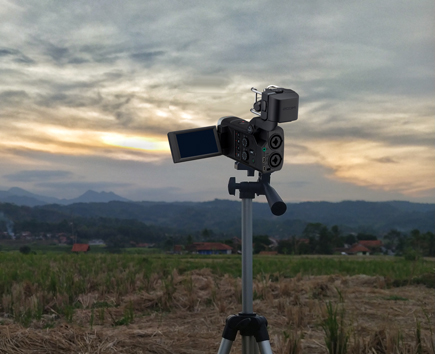 Run and Gun
The compact size of the Q8 and its compatibility with both tripod mounts and three-prong action camera mounts means you can shoot footage anywhere, from perspectives other cameras simply cannot capture. Take it to remote locations. Indoors or outdoors, wherever you go, you can count on your Q8 to deliver crisp video with superior audio.
Capture the Total Experience
Great performances can be elusive… but with the Q8, they can live forever. Capture the total experience—not just the sights, but the sounds too. Shoot video from the audience and use the supplied wide-angle X/Y mic to capture immersive sound. Take your Q8 onstage to get close and provide the musician's perspective. Or use it at the mixing position to combine sharp high-def video and stereo room sound with the crisp, clean audio signal coming straight from the board.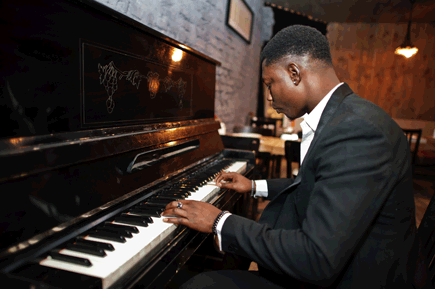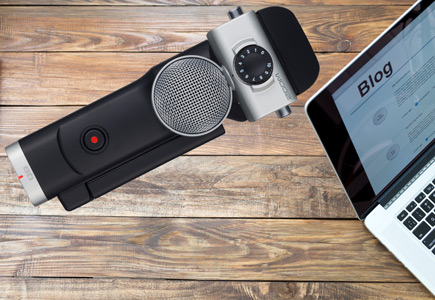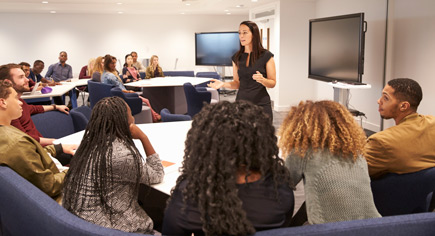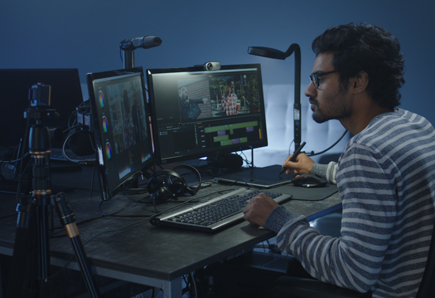 Stories that Matter
The Blogger
Make a statement. Don't let anything get in the way of the story. The Q8 is perfect for electronic newsgathering, conducting interviews, and for creating personal video blogs and podcasts. Capture video and audio to an SD card for later editing, or stream it live; you can even use the Q8 as a web camera or USB microphone.
The Teacher
Spread the word. With its high-quality sound and crisp, sharp video, the Q8 is the perfect teaching tool for creating detailed video lessons and demonstrating fingerings, bowings, and other playing skills. Use it to capture student rehearsals and performances so they can review and perfect form and technique.
The Video Pro
Features that matter. With single-button recording, self-timer, high quality wide-angle lens, and sensing options that automatically adapt to various lighting situations, the Q8 is the ideal tool for creating professional-quality videos with pristine audio. Transfer the files to your favorite editing software via USB and turn your raw footage into high quality productions. The Q8's compact size allowing you to go where your big rig can't go and capture video from unusual angles. You can even use the Q8 as a standalone audio field recorder.
Features
Interchangeable audio input capsules can be swapped out as easily as the lens of a camera
Full-color rotating LCD touchscreen
Supports five HD video modes, up to 2304 x 1296 pixels (3M HD), as well as two WVGA modes
Frame rates of up to 60 fps for capturing fast action video
Three imaging sense options (AUTO/CONCERT/NIGHT) for all lighting environments
Self timer
4x digital zoom
Records video in MOV format (with or without audio)
Records audio in AAC and WAV formats, up to 24-bit/96k
Up to four tracks of simultaneous audio recording
Two mic/line inputs with XLR/TRS combo connectors, each with selectable phantom power and -20dB pad
Analog-style gain controls for each audio input
Built-in audio mixer
Stereo link function
Auto-Gain control plus built-in compressor and limiter
Foam windscreen and low-cut filter to eliinate low-frequency noise and rumble
Dedicated Headphone output / Line out
Built-in speaker for fast monitoring
HDMI video output for connection to HDTVs, selectable between NTSC and PAL
Webcam and USB mic function for use with external devices (Apple Camera Connection Kit required)
Direct monitoring for zero latency during use as a USB mic
Compatible with USTREAM Producer, Flash live Media Encorder, Skype, and other popular streaming applications
Built-in standard tripod mount
Tripod-to-three-prong converter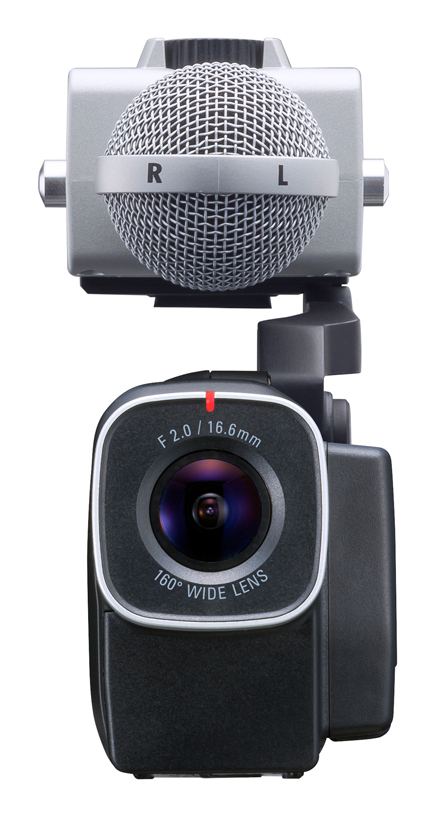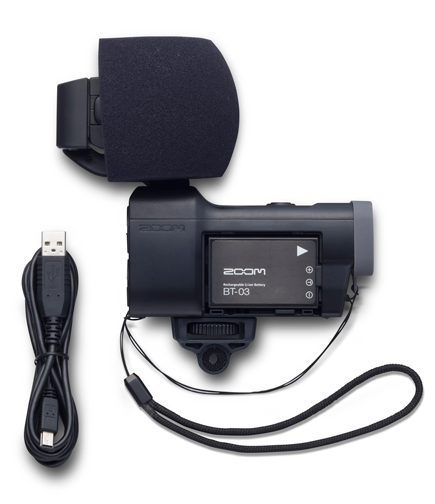 Learn More about the Zoom Q8 Handy Video Recorder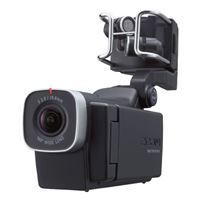 Zoom Q8 Handy Video Recorder
Available for In-Store Pickup Only.