Creality Creality LD-002R LCD Resin 3D Printer

3.5'' Smart Touch Color Screen, Off-line Print, Air Filtering System, 119 x 65 x 160mm Print Size
Overview
3.5'' Smart Touch Color Screen, Off-line Print, Air Filtering System, 119 x 65 x 160mm Print Size
LD-002R uses an LCD screen to mask an image of a layer over a UV light source. Comprised of hundreds of thousands of pixels, each a little rectangle itself, this tech leaves a telltale sign of the edges of these pixels on the print surface. Often barely visible, this effect can be lessened through the use of a digital processing called anti-aliasing, which interpolates between these edges, smoothing the effect out. LD-002R contains a double fan and active carbon air filtering system deodorizing the odor from resin.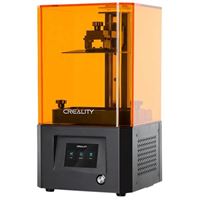 Creality LD-002R LCD Resin 3D Printer

3.5'' Smart Touch Color Screen, Off-line Print, Air Filtering System, 119 x 65 x 160mm Print Size
Usually ships in 5-7 business days.