AMD

AMD Ryzen Threadripper 3990X Castle Peak 2.9GHz 64-Core sTRX4 Boxed Processor
Save $300 when bundled with a compatible eligible motherboard
Overview
AMD 3990X Threadripper
Announced at CES 2020, AMD's 3990X Threadripper processor is a huge leap forward in processing power. The 3990X is designed for creators who need the best rendering performance to enhance productivity and work flow. With 64 cores and 128 threads, you'll be able to run video encoding or rendering applications at blistering speeds and eliminate timeline lag.
Recommended CPU Cooling Solutions
While you can run an air cooler, such as the Noctua NH-D15S CPU Cooler, you may want to consider an All-In-One (AIO) water cooling solution with a 360mm radiator to maximize performance under heavy loads and minimize noise. We recommend the following for ease of maintenance and performance:
Recommended RAM
For maximum performance, you need to feed all of those cores with a minimum of 64GB of fast RAM. Micro Center recommends the following kits:
Recommended Motherboards
3990X Review and Performance Benchmarks
Read our 3990X review detailing how we tested and compared the 3990X against other Threadripper CPUs and the Intel i9-9900K, and how it responds to overclocking.
Custom Built AMD 3990X Threadripper PCs
If you need to upgrade an existing PC, or you want to have a new system professionally built, our expert technicians will be able to build the right system for your needs.
Micro Center technicians receive training from AMD for all CPUs we carry, including the 3990X Threadripper series of CPUs.
Book an appointment with one of our technicians to get started.
One processor to render them all
AMD™ Threadripper™ 3990X, the world's most powerful desktop processor, will render time irrelevant.
The AMD Ryzen Threadripper 3990X processor is the worlds first 64-core desktop processor. That is 64 cores providing an astonishing 128 threads of simultaneous multi-processing power. It also boasts an unprecedented 88 total PCIe 4.0 lanes to meet large GPU and NVMe needs. It has a base clock of 2.9GHz, a max boost clock of up to 4.3GHz, and 256MB of L3 cache. It also supports Zen Core Architecture and AMD Ryzen Master Utility. The AMD Ryzen Threadripper 3990X offers exceptional performance and value for enthusiasts, special effects artists, and content creators who demand the very best.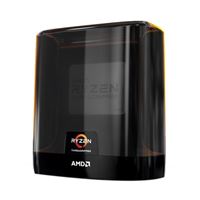 AMD Ryzen Threadripper 3990X Castle Peak 2.9GHz 64-Core sTRX4 Boxed Processor
Usually ships in 5-7 business days.