Next Level Racing

Next Level Racing F-GT Lite Simulator Cockpit

Overview
The revolutionary patent pending F-GT Lite, allows you to be in true racing positions for both formula and GT in the comfort of your own home. The new Next Level Racing hubs allow quick and easy adjustment from GT to Formula position to get you racing in minutes. Engineered to with stand 150 kg of force per hub, the Next Level Racing hubs provide durability and strength. When not in use, the quick release of the hubs allows the cockpit to be easily folded and stored. The Next Level Racing F-GT Lite has been developed and engineered to give solid support for your wheel, pedals and shifter for the ultimate home racing experience. With full range of angle, height and distance adjustability of the wheel and pedal plate, you are set to find the desired racing position. Using alcantara and breathable mesh material, the F-GT Lite provides a unique and enjoyable racing experience. Added seat bolsters, allow the users to feel comfortable at all times. Constructed with the highest-grade powder coated carbon steel, the F-GT Lite ensures long term durability. With minimal assembly required, the F-GT Lite is ready to race in minutes.

A Revolutionary Cockpit For True Formula And GT Racing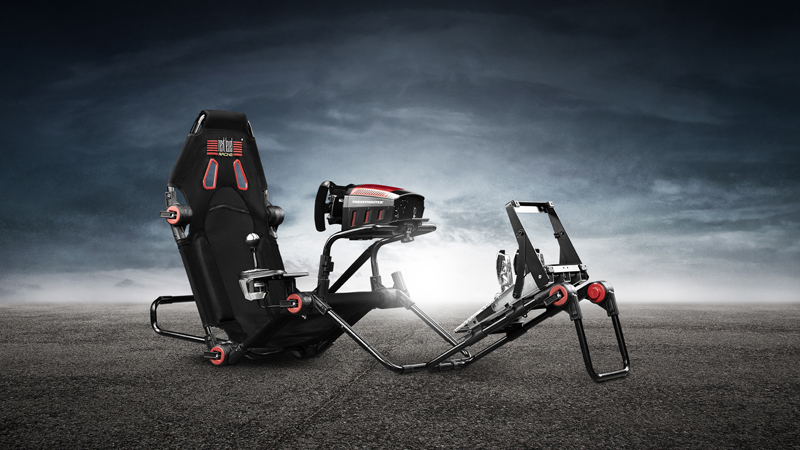 Easy Adjustment From GT To Formula Position
The GTtrack can easily be converted to a flight cockpit with the Next Level Racing® Combat flight Pack. A design that is suited for any flight user that is wanting a change in scenery from the race tracks to explore the skies. The four point harness, creates an immersive flight experience for any flight enthusiast.
Next Level Racing® Compatible Products
Freestanding Keyboard & Mouse Stand
Freestanding Single Monitor Stand
Freestanding Triple Monitor Stand
Features
Changes from Formula to GT racing positions with ease
Adjustable wheel, gear shifter, pedal positions and angle
Folds for easy storage
Next Level Racing Hubs allow for quick adjustments and durability
Seat made with highly-breathable fabric to maximize comfort
Compatible with all major wheels and pedals. Pre-drilled for Thrustmaster, Logitech and Fanatec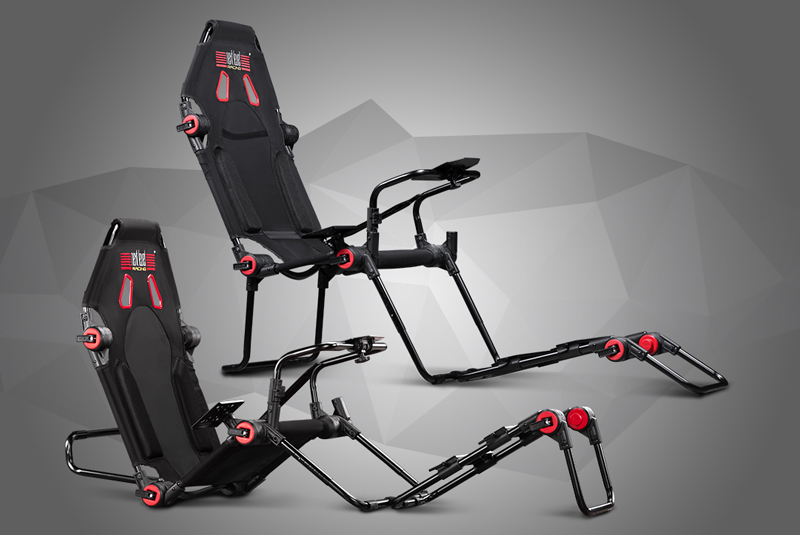 FORMULA AND GT RACING POSITIONS
The new Next Level Racing Hubs allow for quick and easy adjustments enabling users to switch between GT and Formula racing positions with ease. The F-GT Lite allows two true racing positions that users can enjoy with quick release adjustment features. As a result of its minimalist design, F-GT Lite is the ideal cockpit for any user with limited space. With new innovative Next Level Racing® Hubs, the user can switch racing positions quickly and find a comfortable GT and Formula racing position.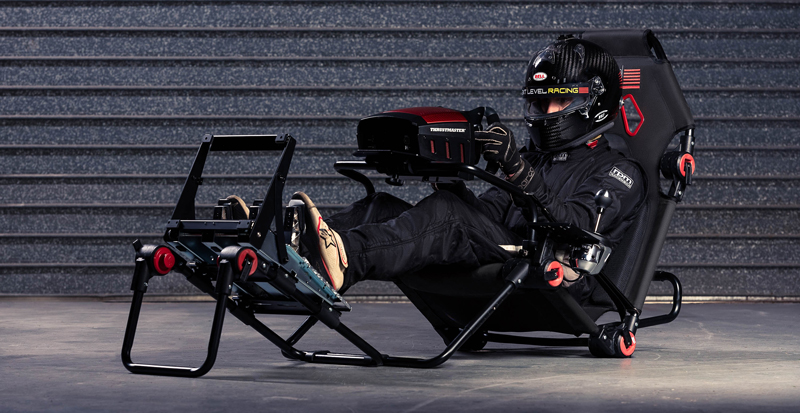 REVOLUTIONARY ADJUSTMENT HUBS
The Next Level Racing Hubs have been developed and engineered for over two years to offer ultimate durability and rigidity with each hub being able to withstand 150kg of force. The Next Level Racing Hubs allows for different angle adjustability to ensure that the user is getting the most comfortable racing position. Thanks to the quick release mechanism, the Hubs have a full range of adjustability to change from Formula to GT. The Next Level Racing Hubs also make it a perfect solution for storage, meaning the product can be folded and stored after racing.
*Do not adjust the Hubs while user is sitting in the cockpit. Make sure user is out of the cockpit before adjusting positions. Patent pending.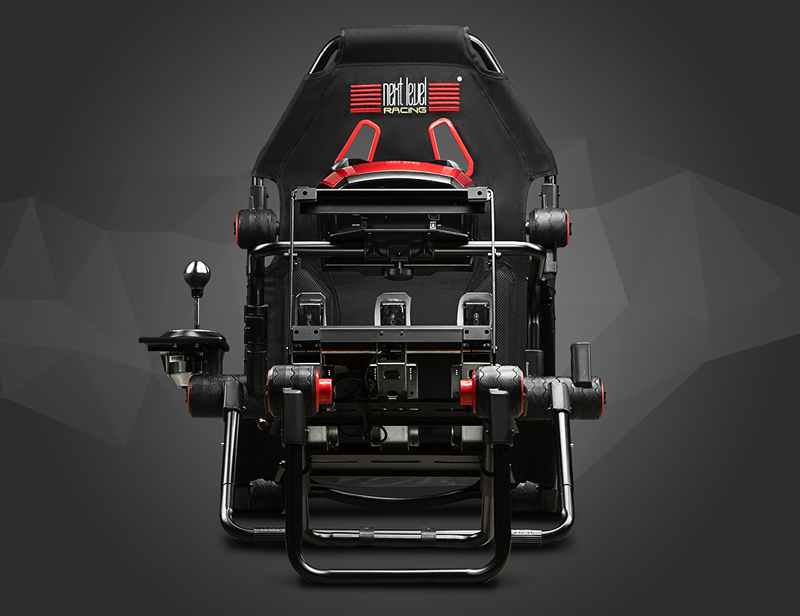 PORTABILITY AND STORAGE TAKEN TO THE NEXT LEVEL
The F-GT Lite's unique design folds to pack away even with electronics installed, allowing the user to easily store their cockpit when not in use, making it the perfect cockpit for sim racers that have limited space. This also allows the F-GT Lite to be portable and for the user to take their racing setup from room-to-room when needed.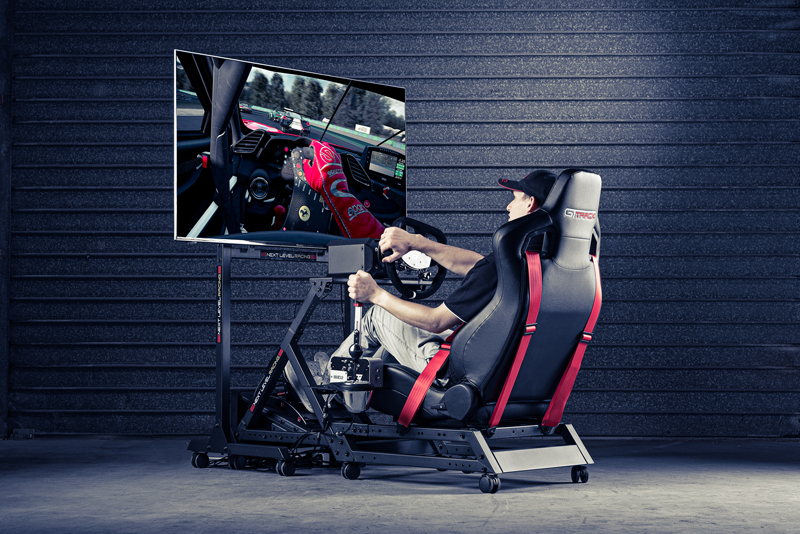 PRE-DRILLED, HARD MOUNTING AND GEAR SHIFTER SUPPORT
The F-GT Lite is pre-drilled to hard mount electronics like wheels, gear shifters and pedals to provide a rigid racing experience as well as full adjustability to ensure different size users can find the most comfortable racing position. The F-GT Lite is compatible with all major wheels and pedals and pre-drilled for Logitech®, Thrustmaster®, Fanatec® and supports wheels that have clamping mounting options. The included Gear Shifter support can be installed on either the left or right hand side.
Learn More about the F-GT Lite Cockpit