Printworks Printworks High Glossy Photo Paper

8.5" x 11"; 96 Brightness; 15 Sheets
Overview
8.5" x 11"
96 Brightness
15 Sheets
Printworks offers a wide variety of outstanding photo paper for all of your photo printing needs. Printworks High Gloss Photo Paper is a is a heavyweight, 8.5 mil paper, with a high gloss finish that produces high quality prints with rich, vibrant color and amazing, sharp detail. Its instant dry coating ensures that your important photos will print and dry quickly without the risk of smudges or smears. Photos print with sharp detail and vibrant color because of the built-in Tru Color Technology. Take any print project from ordinary to extraordinary with your inkjet printer and Printworks High Gloss Photo Paper. For over 50 years, we have been the experts on coatings, paper finishes and the total printing process. The Printworks family of specialty inkjet papers let you create unforgettable photos, attention-getting business cards, "A " grade school documents, and creative craft projects. Each one demands the thought, the creativity and the paper to make it stand out. Printworks brand photo paper, transfers, cards, and labels are designed and engineered with you in mind. Stringently specified. Meticulously crafted. Assured quality. Satisfyingly affordable. And all come with a 100% Satisfaction Guarantee.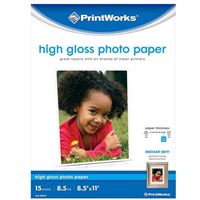 Printworks High Glossy Photo Paper

8.5" x 11"; 96 Brightness; 15 Sheets
Usually ships in 5-7 business days.