Aluratek

Aluratek Lightning and 3.5 mm Adapter for iPhone 8 /8Plus/7/7Plus/X/10/XR/Xs/XS Splitter for Headphone + Charge (ADLA01F)
Overview
Alurateks Lightning + 3.5 mm Adapter for iPhone/iPad is the best solution to charge your phone, and listen to music or talk on your phone simultaneously. It is compatible with any iPhone or iPad with a lightning port. No extra software is required. This device is perfect so that you dont have to compromise one for the other.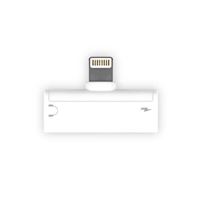 Aluratek Lightning and 3.5 mm Adapter for iPhone 8 /8Plus/7/7Plus/X/10/XR/Xs/XS Splitter for Headphone + Charge (ADLA01F)
Usually ships in 5-7 business days.