Intellinet

Intellinet FastCrimp Modular Plug Crimping Tool
Overview
FastCrimp RJ45 Modular Plug Crimping Tool from Intellinet Network Solutions helps installers terminate RJ45 cables quickly and easily. Getting clean connections with the jacket at the crimp point sometimes requires an extra trimming step to get the wire lengths just right. With the intuitive design of the FastCrimp Modular Plugs, you run the wires all the way through the plug and out the front before you crimp and cut them with this tool. There is no more wondering if the wires got crossed in the connector or if they are seated completely, you can easily check them for perfect positioning and additional peace of mind.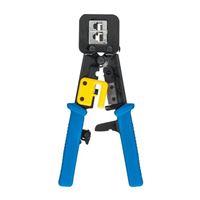 Intellinet FastCrimp Modular Plug Crimping Tool
Usually ships in 5-7 business days.