Inland

Inland 400 Tie-Points Breadboard - 3 Pack
Overview
This is a white solderless breadboard. It has 2 power buses, 10 columns, and 30 rows - a total of 400 tie in points. This half size breadboard is good for small projects. It has a standard double-strip in the middle and two power rails on both sides.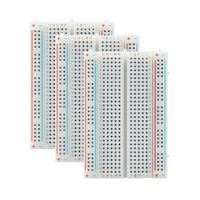 Inland 400 Tie-Points Breadboard - 3 Pack
Usually ships in 5-7 business days.