Redragon

Redragon Devarajas K556 RGB Mechanical Gaming Keyboard - Brown
Overview
Redragon features industrial strength mechanical switches that provide a unique clicky tactile feel. We think it's a great modern equivalent for the clicky typewriters of old. Mechanical keyboards promote a more accurate typing experience and the clicky feedback is both satisfying and endlessly fun! Guaranteed! If you've never experienced mechanical keyboards, the Redragon K556-RK is the way to go!
Redragon K556 Keyboard
MECHANICAL BROWN SWITCHES
Offering the best tactile typing experience, also being ever so slightly quieter, fitting for office or gaming use. And you will get eight spared switches as a gift. No CD software included, please download software from https://redragonshop.com/pages/software.
BACKLIT MODES
Press FN+INS-PgDn to enter Pro-gamer mode. RGB LED adjustable lighting with six-themed backlights -18 lighting models. You can also adjust their brightness with FN+"↑"and"↓" Besides, there is a nine-color single backlit mode for this keyboard.
100% ANTI-GHOSTING 104 KEYS.ERGONOMIC, DURABLE AND WATERPROOF DESIGN
This IP67 keyboard is made of full metal material, with matte-finish texture, sturdy and robust enough to protect it from scratching. It allows multi-keys to work simultaneously with high speed.
KEYCAPS DESIGN
The Redragon K556 features a custom designed keycap that has been made shorter to reduce the time it takes for your actions to register.
FLEXIBLE REMOVABLE KEYCAPS AND WIDE COMPATIBILITY
With Key Cap Puller. Supports Windows10, Windows 8, Windows 7, Mac OS X, Windows XP, Windows VISTA, etc.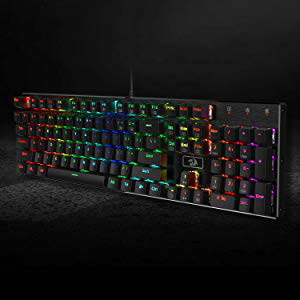 Anti-ghosting with 104 Standard Keys
Fully anti-ghosting keys deliver reliably accurate performance without any program error.
Fully Anodized Aluminum Frame Brushed
Extreme durability ensures that players do whatever they would like.
Redragon Devarajas K556 RGB Mechanical Gaming Keyboard - Brown