Night Owl

Night Owl 100 ft. BNC Extension Cable
Overview
The CAB-1004KV1 is a 100 ft. Class 2 In-Wall Rated Video and Power Extension Cable that is compatible with all Night Owl DVRs. While this cable can be used in conjunction with any DVR system, it is required for our 4K wired DVRs. The design of this cable makes communication between the camera and DVR much smoother and far less susceptible to video degradation. The cable extends the range of any Night Owl BNC wired camera and comes equipped with a BNC-to-BNC adapter to connect your existing cables. This Class 2 In-Wall Rated cable will help you safeguard what matters most!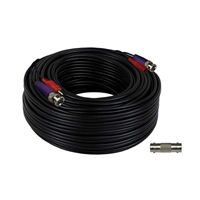 Night Owl 100 ft. BNC Extension Cable
Usually ships in 5-7 business days.