Uncaged Ergonomics

Uncaged Ergonomics CD4 Ergonomic Laptop Stand and Standing Desk
Overview
An all-in-one laptop stand & laptop standing desk designed for those who get work done on a laptop. Use this adjustable height and angle laptop riser to work more comfortably sitting (and with better posture). Grasp the top panel and quickly raise your laptop to a comfortable standing height. This ergonomic laptop standing desk is perfect for working directly on your laptop with or without an external mouse. CD4 has a unique, compact profile that is lightweight, portable and will not cluster your desk. CD4 has a sleek ergonomic design that rests on top of your desk, requires no installation and no assembly. The steel frame is sturdy even at max height. Height 2.6" to 18.6".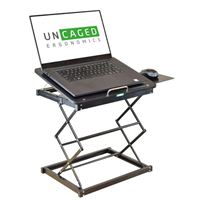 Uncaged Ergonomics CD4 Ergonomic Laptop Stand and Standing Desk
Usually ships in 5-7 business days.