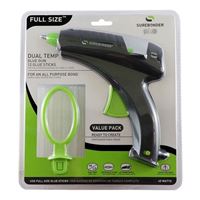 SureBonder

SureBonder DT-270FKIT Plus Series 40 Watt Full Size Dual Temperature Hot Glue Gun with 12 Sticks Included
Overview
This Surebonder Glue Gun/Glue kit will get you started on all of your craft projects/DIY projects/repair projects. Dual settings makes this kit versatile and convenient for your gluing needs, just flip the switch from low to high or high to low. Use the low temperature for gluing delicate material such as lace, foil, ribbon, etc. and use the high temperature for bonding metals, plastics and ceramics. The kit includes a full size Dual Temperature Glue Gun and 12 each 4" Standard All Purpose Glue Sticks.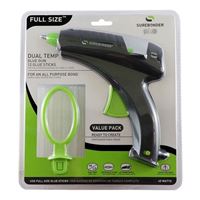 SureBonder DT-270FKIT Plus Series 40 Watt Full Size Dual Temperature Hot Glue Gun with 12 Sticks Included
Usually ships in 5-7 business days.