UBTECH

UBTECH JIMU Robot Mythical Series: UnicornBot Kit
Overview
This enchanted Mythical Series kit has everything you needed to create a buildable, codable Unicorn robot or even invent your own. The fun is extended with the Blockly coding platform, allowing kids to build and code this legendary creature. Download the FREE JIMU app for step-by-step, 3D, 360 degrees instructions. Unicornbots are real -- Build, Code and share one today! Compatible with both iOS and Android devices.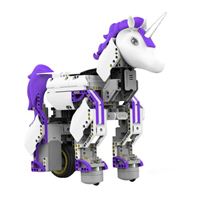 UBTECH JIMU Robot Mythical Series: UnicornBot Kit
Usually ships in 5-7 business days.