CyberPower Systems

CyberPower Systems 8-Outlet 650VA 360W 890 Joules RoHS Compliant UPS
Overview
The CyberPower SX650U uninterruptible power supply (UPS) safeguards a home office PC and other electronics (monitors, printers, scanners, speakers, fax machines, CD/DVD players and iPods) from surges, spikes, sags, brownouts and other power abnormalities. Its composite integrated circuitry offers advanced lightning protection. A Three-Year Warranty ensures that this UPS has passed our highest quality standards in design, assembly, material or workmanship and further protection is offered by a $125,000 Connected Equipment Guarantee.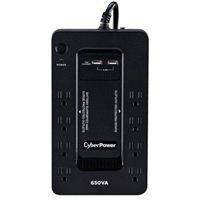 CyberPower Systems 8-Outlet 650VA 360W 890 Joules RoHS Compliant UPS
Usually ships in 5-7 business days.