Intellinet

Intellinet Universal 2-in-1 Modular Crimper and Cable Tester
Overview
The Universal Modular Plug Crimping Tool and Cable Tester from Intellinet is a premium-quality, all-in-one crimp tool, network cable tester, wire stripper and cutter. Network professionals can easily terminate and test network cables for wiring continuity, open configurations, shorts and miswires. An excellent addition to any network toolbox, this crimping tool and cable tester can quickly check terminations before IT staff install the customized cable. It also allows for quick identification and repair of connection problems in an existing installation.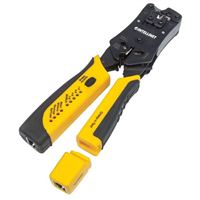 Intellinet Universal 2-in-1 Modular Crimper and Cable Tester
Usually ships in 5-7 business days.