Adafruit Industries

Adafruit Industries NeoPixel NeoMatrix 8x8 - 64 RGB LED Pixel Matrix
Overview
64 eye-blistering RGB LEDs adorn the NeoMatrix for a blast of configurable color. Arranged in an 8x8 matrix, each pixel is individually addressable. Only one microcontroller pin is required to control all the LEDs, and you get 24 bit color for each LED. Wiring it up is easy: there are two 3-pin connection ports. Solder wires to the input port and provide 5VDC to the 5V and ground pins, then connect the DIN pin to your microcontroller. If you're using our NeoPixel Arduino library, use digital #6. You'll also need to make a common ground from the 5V power supply to the microcontroller/Arduino. Since each LED can draw as much as 60mA (thats up to 3.5 Amps per panel if all LEDs are on bright white!) we suggest our 5V 2A power supply. For most uses, you'll see about 1-2A of current per panel.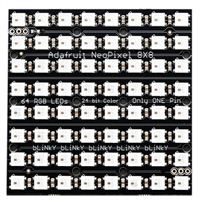 Adafruit Industries NeoPixel NeoMatrix 8x8 - 64 RGB LED Pixel Matrix
Usually ships in 5-7 business days. Limited availability. May not be in stock at time of order. No back orders.