Adafruit Industries

Adafruit Industries Feather HUZZAH with ESP-F v1.1 With Headers
Overview
At the Feather HUZZAH's heart is an ESP8266 WiFi microcontroller clocked at 80 MHz and at 3.3V logic. This microcontroller contains a Tensilica chip core as well as a full WiFi stack. You can program the microcontroller using the Arduino IDE for an easy-to-run Internet of Things core. We wired up a USB-Serial chip that an upload code at a blistering 921600 baud for fast development time. It also has auto-reset so no noodling with pins and reset button pressings.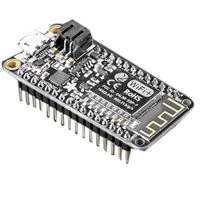 Adafruit Industries Feather HUZZAH with ESP-F v1.1 With Headers
Usually ships in 1-3 business days.