Adafruit Industries

Adafruit Industries Feather M0 RadioFruit RFM69HCW 433MHz Packet Radio
Overview
This is the Adafruit Feather M0 RFM69 Packet Radio (433 MHz). We call these RadioFruits, our take on an microcontroller with a RFM69 HCW packet radio transceiver plus built in USB and battery charging. Its an Adafruit Feather M0 with a 433MHz radio module cooked in!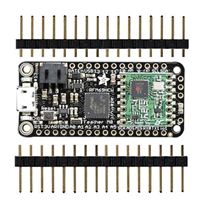 Adafruit Industries Feather M0 RadioFruit RFM69HCW 433MHz Packet Radio
Usually ships in 1-3 business days.