Crucial

Crucial MX500 1TB SSD 3D TLC NAND SATA III 6Gb/s 2.5" Internal Solid State Drive
Overview
Every time you turn on your computer, youre using your storage drive. It holds all your irreplaceable files and it loads and saves almost everything your system does. Join more and more people who are keeping their family videos, travel photos, music, and important documents on an SSD, and get the near-instant performance and lasting reliability that comes with solid state storage. Upgrade with the Crucial MX500 SSD, a drive built on quality, speed, and security thats all backed by helpful service and support. Even if youve never installed an SSD, dont sweat it our step-by-step guide walks you through the process to make installation easy. Its worth it.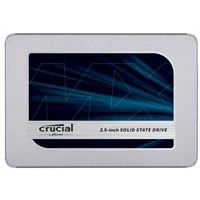 Crucial MX500 1TB SSD 3D TLC NAND SATA III 6Gb/s 2.5" Internal Solid State Drive
Usually ships in 5-7 business days.