Vantec

Vantec NexStar GX 2.5" SATA to USB 3.1 Gen 2 Type-C External Hard Drive Enclosure
Overview
The NST-271C31-BK is a simple well design enclosure ready for 2.5 SATA HDD or SSD. This first of GX series offers well-crafted aluminum casing for heat protection and minimize vibration. This portable enclosure features latest in technology using USB 3.1 Gen 2 Type C interface for Speed and convenient using reversible connector. It offers good design, speed and portability.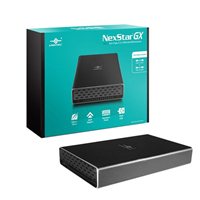 Vantec NexStar GX 2.5" SATA to USB 3.1 Gen 2 Type-C External Hard Drive Enclosure
Usually ships in 1-3 business days.