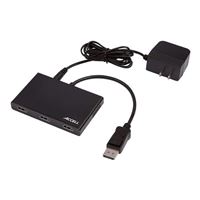 Accell

Accell UltraAV DisplayPort 1.2 Male to 3 HDMI Female Multi-Display MST Hub
Overview
The Accell UltraAV DisplayPort 1.2 to 3 HDMI Multi-Display MST Hub allows you to enjoy up to three independent HDMI monitors from a single DisplayPort output while utilizing the new multi-stream transport (MST) protocol.. The MST Hub can support up to three high-resolution displays independently, two monitors with resolutions up to 1920x1080 at60Hz and the third monitor up to 2560x1600 at60Hz. With the UltraAV MST Hub you can chose to expand a single image across three displays, perfect for high resolution gaming. For the efficiency and productivity of multi-tasking, easily dedicate each display to a separate application. The maximum resolution is dependent on the throughput of DP 1.2 or HDMI 1.4 as well as the graphics and display solution used.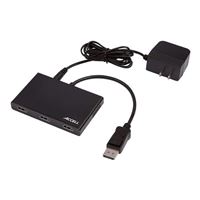 Accell UltraAV DisplayPort 1.2 Male to 3 HDMI Female Multi-Display MST Hub
Usually ships in 1-3 business days.