Adafruit Industries

Adafruit Industries HDMI to RCA Adapter w/ NTSC/PAL Switch
Overview
Do you have a display, television, projector or some other older device that isn't compatible with your HDMI devices? Here's an adapter that will allow you to convert HDMI from your modern computer or game system to NTSC/PAL, for older screens and devices that might not have an HDMI input.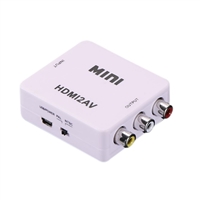 Adafruit Industries HDMI to RCA Adapter w/ NTSC/PAL Switch
Usually ships in 5-7 business days.