Adafruit Industries

Adafruit Industries Circuit Playground - Developer Edition
Overview
Circuit Playground features an ATmega32u4 processor, just like our popular Flora. The board's also round and has alligator-clip pads around it so you don't have to solder or sew to make it work. You can power it from USB, a AAA battery pack, or with a Lipoly battery (for advanced users). Just program your code into the board then take it on the go!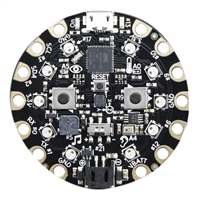 Adafruit Industries Circuit Playground - Developer Edition
Usually ships in 5-7 business days.