Vantec

Vantec IDE/SATA TO USB3 ADAPTER
Overview
This device enables you to connect numerous storage drives like 2.5, 3.5, 5.25 SATA or IDE drives thru the latest Superspeed USB 3.0 connection. Whether your IDE/SATA hard drive is new or old, from a laptop or desktop, this adapter can read it all.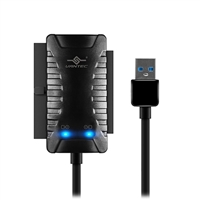 Vantec IDE/SATA TO USB3 ADAPTER
Usually ships in 5-7 business days.