Adafruit Industries

Adafruit Industries 8-channel Bi-directional Logic Level Converter - TXB0108
Overview
This chip performs bidirectional level shifting from pretty much any voltage to any voltage and will auto-detect the direction. Only thing that doesn't work well with this chip is i2c (because it uses strong pullups which confuse auto-direction sensor). If you need to use pullups, you can but they should be at least 50K ohm - the ones internal to AVRs/Arduino are about 100K ohm so those are OK! Its a little more luxurious than a 74LVX245 but if you just don't want to worry about directional pins this is a life saver! This breakout saves you from having to solder the very fine pitch packages that this chip comes with.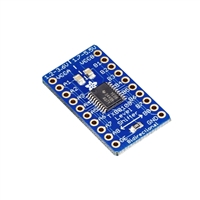 Adafruit Industries 8-channel Bi-directional Logic Level Converter - TXB0108
Usually ships in 5-7 business days. Limited availability. May not be in stock at time of order. No back orders.