Adafruit Industries

Adafruit Industries UV/UVA 400nm Purple LED 5mm Clear Lens - 10 pack
Overview
These 5mm clear UV / Purple LEDs emit UV 'blacklight' in the UVA spectrum so they are great for projects with fluorescent materials referred to as UV/blacklight-reactive or 'glow-in-the dark'. They are bright (350mcd) and have about a 20-degree LED beam. They go easily into a breadboard and come in a pack of ten so you can easily add that extra UV light to your project.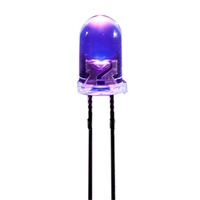 Adafruit Industries UV/UVA 400nm Purple LED 5mm Clear Lens - 10 pack
Usually ships in 5-7 business days.