Adafruit Industries

Adafruit Industries Perma-Proto HAT for Pi Mini Kit - With EEPROM
Overview
Design your own Pi HAT, attach custom circuitry and otherwise dress your Pi A+, B+, or Pi 2 with this jaunty prototyping HAT kit with EEPROM. To kick off the Adafruit HAT party, we have this Perma-Proto inspired plug in daughter board. It has a grid of 0.1" prototyping soldering holes for attaching chips, resistors, LED, potentiometers and more. The holes are connected underneath with traces to mimic the solderless breadboards you're familiar. There's also long power strips for +3V, +5V and Ground connections to the Pi. Near the top we break out nearly every pin you could want to connect to the Pi (#26 didnt quite make the cut).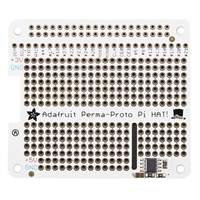 Adafruit Industries Perma-Proto HAT for Pi Mini Kit - With EEPROM
Usually ships in 1-3 business days.