Eneloop

Eneloop AA NiMH 2500mAh Rechargeable XX Series Batteries 4-Pack
Overview
eneloop XX batteries are the perfect choice for powering high current consuming devices such as photo strobe flash lights, wireless keyboards, mice, game controllers, radio controlled toys and a range of household devices. They can all realize extended performance when powered by eneloop XX batteries.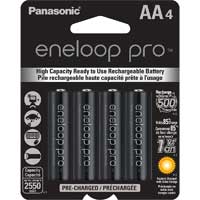 Eneloop AA NiMH 2500mAh Rechargeable XX Series Batteries 4-Pack
Usually ships in 5-7 business days.