Uncaged Ergonomics

Uncaged Ergonomics WorkEZ Executive Laptop Cooling Stand
Overview
Finally, you can get comfortable with your laptop, tablet, or book ... anywhere! Cooling holes dissipate laptop heat --- 3-section legs with special push-button joints raise & tilt the panel --- fixed silicon ledge prevents slippage --- works with laptops, tablets, books, and monitors --- collapses to a thin, flat package for simple storage.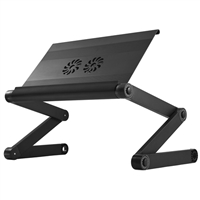 Uncaged Ergonomics WorkEZ Executive Laptop Cooling Stand
Usually ships in 1-3 business days.