Estes-Cox Corp

Estes-Cox Corp Tandem-X Launch Set - Amazon Easy to Assemble / Crossfire Skill Level 1
Overview
Two is better than one! You'll get X-tra value with the Estes Tandem-X Model Rocket Launch Set. This exceptional rocket set features a pair of extreme, high performance rockets with a launch system for launching them. Whether you're a new rocketeer or a seasoned veteran, launch in tandem for an exciting model rocket experience! The E2X Amazon is as imposing as the name sounds. This giant towers almost three feet high and is quick and easy to build! A tiger-striped body tube, pre-colored plastic nose cone and fins and self-stick decals make building this rocket easy to do in about an hour. When flown on our standard engines, this huge rocket can reach heights over 650 feet with recovery on a colorful 18 inch pre-assembled parachute. The Crossfire ISX is a Skill Level 1 kit that can easily be built in about a day. This rocket features a totally streamlined shape with aerodynamic fins and nose cone. It stands 15.6 inches tall. When launched with powerful Estes standard engines, this bullet can reach cloud busting heights up to 1,200 feet. A pre-assembled 12 inch parachute returns the Crossfire back to earth to launch again and again.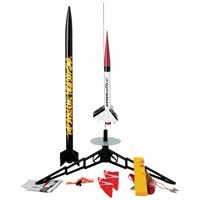 Estes-Cox Corp Tandem-X Launch Set - Amazon Easy to Assemble / Crossfire Skill Level 1
Usually ships in 1-3 business days.