CyberPower Systems

CyberPower Systems Standby Series 550VA UPS with 8 Outlets
Overview
The CyberPower SX550G Standby uninterruptible power supply (UPS) safeguards home/office computers and other electronics (monitors, scanners, speakers, CD/DVD players, MP3 players and phones) from surges, spikes, sags, brownouts and other power abnormalities. Its composite integrated circuitry offers advanced lightning protection.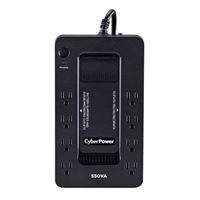 CyberPower Systems Standby Series 550VA UPS with 8 Outlets
Usually ships in 5-7 business days.