Micro Connectors

Micro Connectors Acrylic Stackable Raspberry Pi 4 Case with Power Adapter and Fan
Overview
The Micro Connectors Acrylic Stackable Case with Fan for Raspberry Pi is made out of solid precision laser cut acrylic. The open frame design allows for easy access to Micro-SD, GPIO, Camera CSI, and Display DSI. With the stackable design, it provides an easy solution for Raspberry Pi clusters. The included active 40mm fan and heat sinks kit cools down the temperature generated from the board and prevents overheating. This versatile case is compatible with Raspberry Pi 1 Model B, Pi 2 Model B, Pi 3 Model A+/B/B+, Pi Zero/Zero W and Pi 4 Model B. This Micro Connector acrylic case is the best choice for your Raspberry Pi and Pi clusters.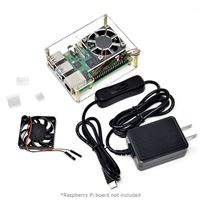 Micro Connectors Acrylic Stackable Raspberry Pi 4 Case with Power Adapter and Fan
Usually ships in 5-7 business days.