IOGear

IOGear 4-Port 4k x 2k HDMI Switcher w/ Remote
Overview
IOGEAR's 4-Port HDMI Switch allows users to connect up to four HDMI source devices to one HDMI display. For easy access and convenience, this switch has one HDMI port on the front panel that can be used to connect your portable devices, such as laptops, tablets or digital cameras. The three additional HDMI ports on the back provide permanent connections for your Blu-ray players, set-top boxes, video game consoles and more. Switching between HDMI source devices can be done via the front panel buttons, IR remote control or RS-232 bi-directional control. Easy identification of source inputs using the front panel LED indicators for each source device.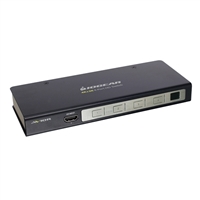 IOGear 4-Port 4k x 2k HDMI Switcher w/ Remote
Usually ships in 5-7 business days.