Schmartboard Inc.

Schmartboard Inc. Through Hole 0.1" Spacing with Signature 0.05" Offset Grid 2" X 2
Overview
100% support of the thru hole components with the 0.1" spacing pitch. 12 ground holes are connected a copper plane on the bottom side. Components such as capacitor, resistor, diode, inductor, crystal, headers, jumpers, fuse, transistors, voltage regulators, DIP IC 70 pins or sockets, DIP switches, relay, RJ11, RJ45 connector...etc. are supported.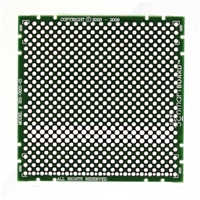 Schmartboard Inc. Through Hole 0.1" Spacing with Signature 0.05" Offset Grid 2" X 2
Usually ships in 5-7 business days.