Irithyll
by Ben C
Posted on: 1/31/2022
Build Description
Decided to switch from console to PC, as some of my closest friends switched recently mainly for R6 and Halo. During this time a few other friends ask me to help them with their build and I soon became addicted. To further scratch that itch I delved into overclocking, specifically ram overclocking. I planned this build from 2019-2020 waiting for things to go on sale and for new releases like the 3000 series. I got really lucky being able to buy most of my parts before the covid mark-up, and was able to get a GPU right before they all went out of stock. This allowed me to eventually step up to a 3080 after 8 months through EVGA. I'd like to eventually upgrade my CPU with the upcoming 5800x3d refresh.

The orginal primary use for this build is for gaming and light streaming, but with covid I also heavily relied on it for online learning. With this build I mainly play the dark souls series and competitive shooters like halo and R6.

In hindsight I probably should have done an sff build, because taking my build from home to school, a 2 hour drive is a huge pain.
Favorite Feature
I use an old tablet connect to the PC to monitor temperatures and any error pop ups.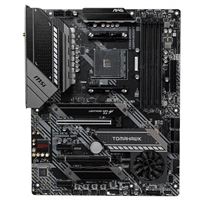 MSI X570 MAG Tomahawk WiFi AMD AM4 ATX Motherboard
Qty: 1 $209.99
EVGA GeForce RTX 3080 FTW3 Ultra Gaming Triple Fan 12GB GDDR6X PCIe 4.0 Graphics Card
Qty: 1 $809.99
Patriot viper steel 4400 cl19
Qty: 2 $120.00
Phanteks p500a
Qty: 1 $155.00
Corsair rm850x
Qty: 1 $121.00
Arctic liquid freezer ii 360mm
Qty: 1 $130.00
adata xpg sx8200 pro
Qty: 2 $110.00