Acer Acer ChromeBox CXI3-4GKM4 Desktop Computer

Intel Celeron 3867U 1.8GHz Processor; 4GB DDR4-2133 RAM; 32GB SSD; Intel HD Graphics 610
Overview
Intel Celeron 3867U 1.8GHz Processor
4GB DDR4-2133 RAM
32GB SSD
Intel HD Graphics 610
Chrome OS
10/100/1000 LAN + WiFi 5 WLAN
Display Not Included
Acer introduces its new Chromebox, a desktop equvalent to its Chromebook delivering a cloud-centric PC for casual users. The Chromebox blends the fast and secured Chrome OS into a small form-factor desktop giving you the freedom to choose how you want to connect. Simply attach to a monitor or TV, connect the included keyboard and mouse, and you'll be on the Internet in just a few minutes. Whether it be a big screen TV or any size monitor, you can safely access the web and your favorite Google Chrome apps.
See More PC Desktop Computers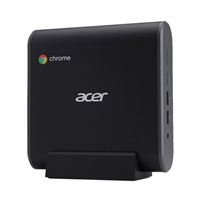 Acer ChromeBox CXI3-4GKM4 Desktop Computer

Intel Celeron 3867U 1.8GHz Processor; 4GB DDR4-2133 RAM; 32GB SSD; Intel HD Graphics 610
Usually ships in 5-7 business days.