Nova Development

Nova Development Photo Explosion 5.0
Overview
Photo Explosion has the distinction of being the very first software of its kind to deliver powerful editing features, spectacular special effects and professional-quality photo projects all together in one program. Photo Explosion 5 makes creating with digital photography easier than ever with a brand new user interface, 6,000+ photo projects & graphics and an improved workflow for editing, archiving and sharing with friends and family. Whats more, Photo Explosion 5 is packed with over 100 exciting new features - all designed to let you get the most out of your digital camera and mobile phone photos! Photo Explosion 5, it is the next generation in photo editing software and the only digital photo studio suite you'll ever need.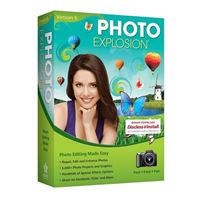 Nova Development Photo Explosion 5.0
Usually ships in 5-7 business days.