Crazy Aaron

Crazy Aaron Magnetic Storms Strange Attractor Thinking Putty
Overview
Strange attractor is the name of a mathematical equation that is commonly part of chaos theory. This equation creates a fractala never ending, non-repeating pattern within a dynamic system. Basically, a strange attractor has a mind of its own and creates beautiful patterns in design, art, and nature. Strange Attractor Thinking Putty has a mind of its own as well. A deep, mysterious black with subtle green sparkles, it comes alive when charged with the included magnet. Warning: Contains strong magnet. Swallowed magnetics can stick together across intestines causing serious infections and death. Seek immediate medical attention if magnet(s) are swallowed or inhaled.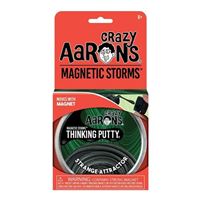 Crazy Aaron Magnetic Storms Strange Attractor Thinking Putty
Usually ships in 5-7 business days.