Scosche Industries

Scosche Industries 200W Portable Power Inverter
Overview
Plug the 12V adapter into your vehicles 12VDC outlet or any 12V outlet in order to power the inverter, then use the 3 wall AC outlets to charge your laptop, tools, gaming consoles, small electronics or other devices which receive power from an AC plug. The LED indicator turns green to let you know that the inverter is powered on and red during standby with power protection mode. The 4 USB ports let you fast charge any standard USB devices with up to 2.1AMPs of power. Its perfect for charging while driving or stopped while on the road. The Scosche INVERT200 brings the power to you while on the go, or on long road trips and vacations, so youll never be without power when you need it.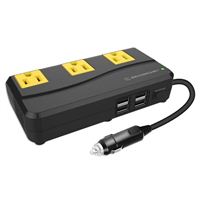 Scosche Industries 200W Portable Power Inverter
Usually ships in 5-7 business days.