NTE Electronics

NTE Electronics 6 Wire Slip Ring with Flange
Overview
These 6 wire and 12 wire slip rings are simple electromechanical devices that allow the transmission of power and electrical signals from a stationary to a rotating structure. A slip ring can be used in any electromechanical system that requires rotation while transmitting power or signals. It can improve mechanical performance, simplify system operation and eliminate damage-prone wires dangling from movable joints. Commonly, youd find slip rings in wind turbines, robotics, wheel encoders, or anything else that requires continuous 360 rotation, while maintaining an electrical connection. With a slip ring assembly, your electronics can now twist and turn safely. This particular slip ring provides you with a compact body with gold-on-gold alloy fiber brush to plated ring contacts inside.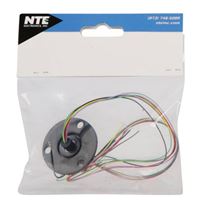 NTE Electronics 6 Wire Slip Ring with Flange
Usually ships in 5-7 business days.