CAIG Laboratories

CAIG Laboratories DeoxIT L260DNp PLUS Grease
Overview
DeoxIT Grease Type L260-DNp - Lithium-based preparation, infused with DeoxIT D-Series D100L. Good lubrication, dissolves oxidation and corrosion, excellent wear resistance, excellent pressure resistance, excellent oxidation (galvanic corrosion) protection, high dripping-point characteristics. Operating temperatures, L260-DN, -40OC to 260OC.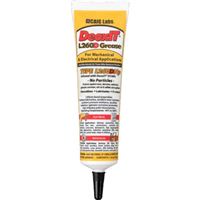 CAIG Laboratories DeoxIT L260DNp PLUS Grease
Usually ships in 5-7 business days.