Inland

Inland HDMI Splitter w/ 3D & 4K Support
Overview
This splitter has one HDMI input and two HDMI outputs. It distributes the input HDMI signal into two identical outputs simultaneously. It supports up to 1080p@60Hz and 3D format. Its video amplifier bandwidth can be up to 225MHz. This HDMI 1.3 compliant amplifier splitter offers solutions for HDTV retail and show site, HDTV, STB, DVD and projector factory, data center control, information distribution, conference room presentation, school and corporate training environments.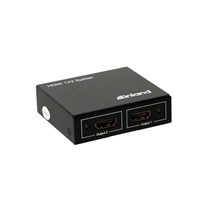 Inland HDMI Splitter w/ 3D & 4K Support
Usually ships in 5-7 business days.