Aluratek

Aluratek 8" Digital Photo Frame - Black
Overview
What separates Aluratek Digital Photo Frames from other brands is picture quality, ease of use, and affordability. You cannot get a better quality image or video than what Aluratek frames deliver. The reason for this is Aluratek only uses the best quality True Digital LCD panels that are available on the market for production. What this means to you is that all of your pictures or videos will be noticeably clearer and much crisper than others that have decided to use analog panels as cost cutting measures. The advantage of utilizing digital panels over analog panels is very similar to the difference in watching HDTV (High Definition Television) instead of standard definition TV. It makes a big difference to watch in crisp clear HD as all the vibrant colors and intricate details will be noticeably better. Bring those digital photos back to life with an Aluratek Digital Photo Frame and let the entertainment begin.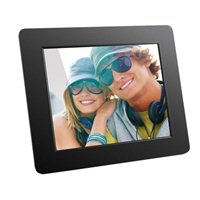 Aluratek 8" Digital Photo Frame - Black
Usually ships in 5-7 business days.