Duracell

Duracell 2.5 Hour 4 Position AA/AAA NIMH Battery Charger Includes 2 x AA and 2 x AAA NIMH 2400mAh Batteries
Overview
With a longer-lasting charge and fewer recharges, Duracell Rechargeable batteries set themselves apart from the competition. Get hundreds of uses out of each Duracell rechargeable battery and save hundreds of dollars.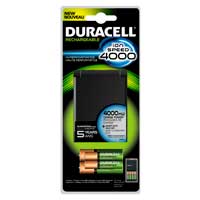 Duracell 2.5 Hour 4 Position AA/AAA NIMH Battery Charger Includes 2 x AA and 2 x AAA NIMH 2400mAh Batteries
Usually ships in 5-7 business days.