Duracell

Duracell 8 Hour 4 Position AA/AAA NIMH Battery Charger Includes 4 x AA NIMH 2400mAh Batteries
Overview
With a longer-lasting charge and fewer recharges, Duracell Rechargeable batteries set themselves apart from the competition. Get hundreds of uses out of each Duracell rechargeable battery and save hundreds of dollars.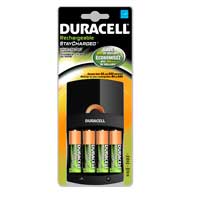 Duracell 8 Hour 4 Position AA/AAA NIMH Battery Charger Includes 4 x AA NIMH 2400mAh Batteries
Usually ships in 5-7 business days.