CAIG Laboratories

CAIG Laboratories DeoxIT Gold G-Series GN5 Mini Spray
Overview
Unique contact cleaner, conditioner, enhancer, lubricant and protectant for PLATED metal surfaces. Improves conductivity, maintains optimum signal quality, reduces fretting & dendrite corrosion,and stabilizes connections between similar and dissimilar metals. Molecularly bonds to both base-metals and plated surfaces and seals out oxygen, protecting both surfaces. The DeoxIT Gold coating is excellent at reducing wear abrasion, arcing, RFI and intermittent connections and improves connector performance/reliability. Ideal for gold plated surfaces. On oxidized surfaces, pre-treat with DeoxIT D-Series contact cleaner.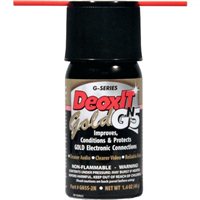 CAIG Laboratories DeoxIT Gold G-Series GN5 Mini Spray
Usually ships in 5-7 business days.