QVS

QVS DisplayPort F-to-F Digital A/V UltraHD Gender Changer/Coupler
Overview
Converts any DisplayPort cable or port with male connector into DisplayPort female port. It can also be used to connect two DisplayPort cables with male connectors. It supports 1080p/1440p/2160p, 4k x 2k Ultra HDTV & 24/48/50/60/120Hz/240Hz. Fully molded design provides durable and professional appearance while female to female connection solves multiple interconnection issues.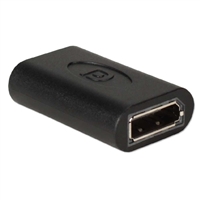 QVS DisplayPort F-to-F Digital A/V UltraHD Gender Changer/Coupler
Usually ships in 5-7 business days.