Dot Line

Dot Line Grip for Mirrorless Camera Black
Overview
This is the perfect grip for small cameras that have a video function. It is all metal with a very fine crosscut texture to ensure a firm hold, weighs only 3.2 ounces. and measures only 2-1/2 high so I doesnt over power small cameras and it easily fits into any bag, and yet, it allows the photographer to get under the camera providing better stability for those video shots. The bottom of the stabilizer grip has a 1/4-20 female thread allowing two or more stabilizer grips to be connected together.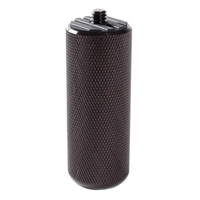 Dot Line Grip for Mirrorless Camera Black
Usually ships in 5-7 business days.