Logitech

Logitech G29 Racing Wheel P4, PS3, PC
Overview
G29 Driving Force is the definitive sim racing hardware with realistic force-feedback, helical gearing and pedal feel, designed exclusively for the latest PlayStation 4, PlayStation 3 and PC titles. This wheel works great with top racing titles such as Gran Truismo, F1 2019, and iRacing!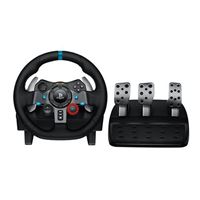 Logitech G29 Racing Wheel P4, PS3, PC
Usually ships in 5-7 business days.