Aoyue

Aoyue 60 Watt Soldering Station
Overview
The Aoyue 469 is a high performance soldering iron at a reasonable price. It is equipped with a fast-acting PTC ceramic heater suitable for advanced soldering needs. The separate tip and heater design offers cost efficiency and easy replacement of tips. This uses standard types of tips.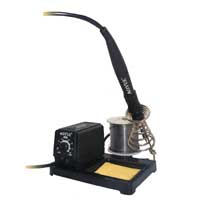 Aoyue 60 Watt Soldering Station
Usually ships in 5-7 business days.